Once again, last couple of weeks we mostly worked on LMP, or nice media player. What's also important, we've added some compatibility fixes, so BitTorrent can be built with Boost 1.50 now, and LastFMScrobble can be built with fresh liblastfm-1.0.
Adding support for liblastfm-1.0 revealed that a bunch of changes in it were like renaming a function here or a function there, and it's not clear why upstream did this in the first place: these changes bring no fixes, no new features, no improvements.
Also, small, but nice news is that Azoth now supports displaying avatars in tooltips, like this: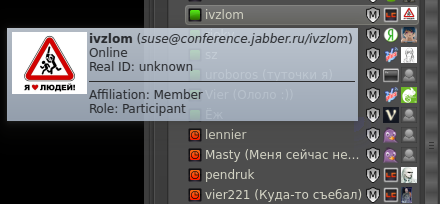 And here's the list of other important changes:
Aggregator: support exporting feeds to PDF.
Azoth: fixed a segfault when Ctrl+Clicking.
Dolozhee: fetch the list of issue categories and assign issues to them.
LastFMScrobble: expose some predefined radio stations like neighbour radio or loved tracks.
LMP: support predefined radio stations from radio plugins.
LMP: playlist stats below the playlist.
LMP: configurable shortcuts.
LMP: close the Album Art display on Esc or mouse click.
LMP: added an option to ignore "The" when sorting artists (this way The Autumn Offering will be between August Burns Red and Behold… The Arctopus).
LMP: URLs are displayed in playlist instead of just the string "URL".
LMP: fixed background in QMLs.
LMP: more file types are now supported.
Otlozhu: support adding tasks from other plugins.
Vrooby: fixed a segfault on startup on some systems.